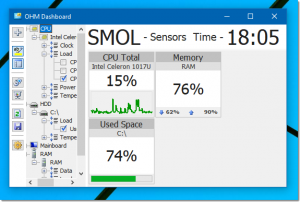 The Open Hardware Monitor ("OHM") is a free open source software that monitors temperature sensors, fan speeds, voltages, load and clock speeds of a computer. It can be downloaded from its homepage.
The Dashboard tool presented here is an add-on solution which requires OHM to be running in background. Dashboard is fully configurable and can present a set of Tiles with all the sensors data available from OHM. It is very suitable for second screens (at least 800×480 pixels) to monitor your PC performance and utilization in real time.
You can install such secondary display inside your PC case and run Dashboard on it as seen below.